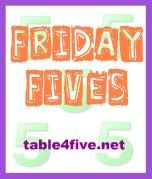 I know it's late, but i wanted to get my Friday Fives post up! Friday Fives is hosted by Table for Five (table4five.net) and you don't even have to be a blogger to participate. You can post your Friday Fives list just about anywhere including Facebook, Tumblr, and Pinterest.
Here's my Friday Fives for today – 5 of my favorite Valentine's Day ideas found on Pinterest (check out all the fantastic ideas on my Valentine's Day Pinterest board)….
1. With a house full of Star Wars fans, these FREE themed Valentine printables are super creative, cute, and a must this Valentine's Day!
2. Ever see an idea and think, "Why didn't I think of that?" When I saw these heart shaped cinnamon rolls that are popping up everywhere on Pinterest, I knew I had to make them for my special loved ones this holiday.
3. How about some Valentine themed DIY home decor? This framed rolled paper heart is easy and looks so chic!
4. This Valentine made MY heart bounce…
5. This creative handmade gift is so easy and perfect to show just how much you love that special someone in your life.
It was almost impossible to choose just five, so make sure you head over to my Valentine's Day Ideas Pinterest board and check out the fabulous ideas for Valentine's yummies, decor, and tons of FREE printables!
Make your own Friday fives list and link it up with me here.